1.GAME OF THRONES
Game of Thrones is an American fantasy drama television series created by David Benioff and D.B.Weiss. It is an adaptation of A Song of Ice and Fire, George R.R.Martin's series of fantasy novels, the first of which is A Game Of Thrones.Game of Thrones has attracted record viewership on HBO and has a broad, active, international fan base. It has been acclaimed by critics, particularly for its acting, complex characters, story, scope, and production values, although its frequent use of nudity and violence  has attracted criticism. The series has received 38 Primetime Emmy Awards, including Outstanding Drama Series in 2015 and 2016, more than any other primetime scripted television series.
2.SHERLOCK HOLMES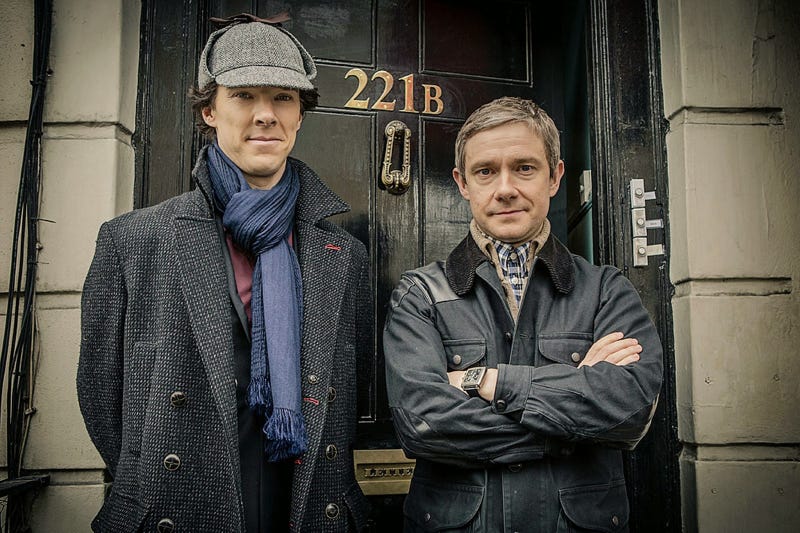 Sherlock Holmes is a fictional private detective created by British author Sir Arthur Conan Doyle. Known as a "consulting detective" in the stories, Holmes is known for a proficiency with observation, forensic science , and logical reasoning that borders on the fantastic, which he employs when investigating cases for a wide variety of clients, including Scotland Yard.Critical reception has been highly positive, with many reviews praising the quality of the writing, performances, and direction. Sherlock has been nominated for numerous awards including:BAFTAs, Emmys, and a Golden Globe, winning several awards across a variety of categories.
3.BREAKING BAD
Breaking Bad is widely regarded as one of the greatest television series of all time.By the time the series finale aired, the series was among the most-watched cable shows on American television.Breaking Bad is an American crime drama television series created and produced by Vince Gilligan It tells the story of Walter White , a struggling high school chemistry teacher diagnosed with inoperable lung cancer. Together with his former student Jesse Pinkman, White turns to a life of crime, producing and selling crystallized methamphetamine  to secure his family's financial future before he dies, while navigating the dangers of the criminal world.
4.FRIENDS
It is  often ranked among the all-time best TV shows.Friends is an American television sitcom, created by David Crane and Marta Kauffman. The series finale on May 6, 2004, was watched by around 52.5 million American viewers, making it the fifth most watched series finale in television history, and the most watched television episode of the 2000s decade.There never has been a sitcom that truly pictures life among the singles (twenty-something) as good as this show does. It's not just comedy, it presents the episodes in such a way that one can truly identify with the situations they face so the audience has something to talk about in coffee shops too. The humor is universal.This show is about 6 people who love each other like family
5.THE WALKING DEAD
The walking dead is known for one of the top series in the horror category.The Walking Dead is an American horror drama television series developed by Frank Darabont, based on the comic book series of the same name by Robert Kirkman.The Walking Dead takes place after the onset of a worldwide zombie apolclaypse.The zombies, colloquially referred to as "walkers", shamble towards living humans and other creatures to eat them,humans they bite or scratch become infected and slowly turn into walkers as well. It is revealed early in the series that all living humans carry this pathogen, so that if they die from any other cause, they will also turn into walkers. The only way to permanently kill a walker is to damage its brain or otherwise fully destroy the body, such as by cremating it.The series has been well received by critics and nominated for several awards, including the Writers Guild of America for Television  and the Golden Globe Award.